Frankfurter Rundschau,
Germany
Germany's 'Obligation' to Tame America's Hawks
"The U.S. deployment rather points to the possibility of surgical strikes against the Teheran regime's nuclear facilities, airfields and military bases."
By Karl Grobe


Translated By Armin Broeggelwirth

January 17, 2007

Germany - Frankfurter Rundschau - Original Article (German)
The president of the USA expects gratitude from the Iraqi people, because the USA liberated them from a tyrant. Any mistakes he has made are excused; he sees no reason for apologies. All the mistakes were made by others, up to and including recent executions in Baghdad, which apparently cannot be carried out correctly. In Texas, where George W. Bush was once the governor, humans are killed in an obviously friendlier fashion than in Baghdad. In Baghdad, people are lynched as they once where in the Wild West, where insults were hurled at the condemned and the unfortunate tearing off of heads at the end of a rope took place.
The Iraqi people have no reason for gratitude. In the end, Saddam Hussein was a product of Washington politics, to the point that he felt so secure, he thought Washington would permit him to become a conqueror - the conqueror of Kuwait. The older Bush allowed the Baghdad dictator a victory in the Iran War, let slide the gassing of tens of thousands of Kurds, the massacre of Shiites, Sunnis and democratically inclined Iraqis of all persuasions who didn't belong to Saddam's own clan. In regard to these crimes there will be no trial; this is where the promise of a constitutional state ends. Saddam was just a caricature of a system whose thugs - if you will pardon the expression - handed down to the nation of the two-rivers gang war, civil war, death squads and the enslavement of returning Iraqis from a cushy exile.
And consider Iraqi's who returned from exile in Iran. These are people who had the courage to come out and vote and who gave the Shiite's a governing majority. Here again, we have a miscalculation; Iran allegedly has too much influence in Iraq because of the shared Shiite faith. Yet no one claims that the through a Catholic John F. Kennedy, the Vatican was secretly in control of the USA. Only ideologues and conspiracy theorists could believe such nonsense. Bush is just such an ideologue.
While the "common vision" - the existence of which the U.S. President confirmed after communicating it to Iraqi head of state Nouri al-Maliki - has changed once and for all into a Fata Morgana [a mirage
, Bush has an even a bigger target in his sights. His last speech sounded like a declaration of preemptive war against Iraq's neighbor Syria - and above all Iran
. His reasoning for taking action is still being fine-tuned. We can assume he will use the same sound reasoning as he did four years ago, which led to a war against Saddam Hussein that violated international law.
Iranian agents are supposed to have been involved with killing American soldiers. Iranian diplomats - who are presumed to have been busy establishing consulates - were kidnapped by American troops (an act that shows how much the U.S. respects Iraqi sovereignty). Iranian "networks" allegedly destabilize Iraq, (as if the destabilization isn't a consequence of the invasion by the "coalition of the willing").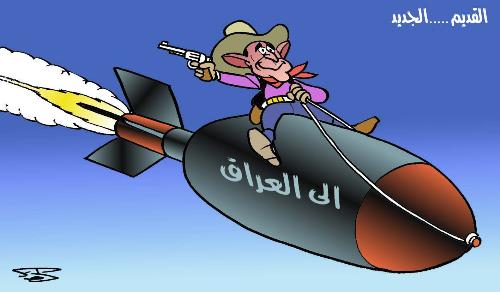 'The Cowboy sends reinforcements to control the Wild, Wild, Iraq.

[Al-Ayyam, Yemen]



-----------------------------------------------------------------------------

The war planners in Washington obviously exclude the use of ground troops against Iran. Aircraft carriers, cruise missiles and Patriot missiles, which have now been deployed in the waters off the Iranian coast, are considered unfit for a land war, and will be of no use fighting the various factions of the Iraqi insurgency. The deployment rather points to the possibility of surgical strikes against the Teheran regime's nuclear facilities, airfields and military bases.
It is only the danger that Iran could activate the Lebanese Hezbullah that now prevents the "hawks" from attacking Iran. But it is certainly questionable whether Hezbullah would listen to the Teheran Ayatollahs. The U.S. administration promotes the scenario that Hezbullah is under the direct control of Teheran. But the reverse argument is just as conceivable: Hezbullah could provoke Israel to execute the "decapitation blow" before the United States does so itself.
The despots on the southern coast of Persian Gulf [the Sunni oil states] may favor such a scenario [getting Hezbullah to incite Israel to attack Iran]. In Berlin, Paris and other capitals, one was aware of other ways to discourage Iran's nuclear ambitions. It is time to reflect on this, especially in Berlin. In its present role, the German government has the strength, the opportunity and therefore an obligation, to tame the "hawks."
VIDEO FROM DUBAI: WHY 'SUCH A FUSS'

OVER METHOD OF SADDAM'S HANGING?
ABU DHABI TV, Dubai: Excerpts from an interview with Iraqi Prime Minister Nuri Al-Maliki, January 9, 00:03:37, Via MEMRI
"The execution was carried out in accordance with the court ruling. I find it strange that there was such a fuss, which overshadowed the crimes this man committed for 35 years – as if he became a martyr just because he was filmed. "
Iraqi Prime Minister Nuri Al-Maliki
German Version Below
Der Weg der "Falken"
VON KARL GROBE
Der Präsident der USA erwartet Dankbarkeit vom irakischen Volk, weil die USA es von einem Tyrannen befreit haben; für Fehler sich zu entschuldigen, sieht er keinen Anlass. Fehler machen die anderen. Nicht einmal Hinrichtungen können sie richtig abwickeln. In Texas, wo George W. Bush früher Gouverneur war, werden Menschen offenbar freundlicher von Staats wegen nach entsprechendem Urteil getötet als in Bagdad. Dort wird gelyncht wie einst im Wilden Westen, Verhöhnung des Hinzurichtenden ebenso eingeschlossen wie das bedauerliche Abreißen von Köpfen durch die Schlinge am Galgen.
Das irakische Volk hat tatsächlich keinen Grund zur Dankbarkeit. Saddam Hussein war letztlich ein Produkt auch der Washingtoner Politik, bis er sich zu sicher fühlte und glaubte, Eroberer werden zu dürfen - Eroberer Kuwaits; den Sieg im Iran-Krieg hätte der ältere Bush dem Bagdader Diktator letzten Endes wohl ebenso durchgehen lassen wie die Vergasung zehntausender Kurden und das Gemetzel an Schiiten, Demokraten und jene Sunniten, die nicht zu Saddams eigenem Clan gehört haben. Darüber wird es keinen Prozess geben; da endet der verheißene Rechtsstaat. Er ist eine Karikatur wie das - mit Verlaub - System, welches die Besatzung dem Zweistromland beschert hat: Aufhetzung der Volksgruppen gegeneinander, Bandenkrieg, Bürgerkrieg, Todesschwadrone, hörige Heimkehrer aus gepolstertem Exil.
Auch aus dem iranischen Exil. Denen hat das Volk, das den Mut zur Wahl aufgebracht hat, eine Mehrheit gegeben. Schon wieder ein Fehler; nun hat der Iran angeblich zu großen Einfluss wegen des gemeinsamen schiitischen Glaubens; als hätte der Vatikan seinerzeit mittels des Katholiken John F. Kennedy heimlich die Macht in den USA übernommen. Ideologen und Verschwörungstheoretiker mögen solchen Unsinn glauben. Bush ist Ideologe.
Während die "gemeinsame Vision", deren Bestehen der US-Präsident gerade dem irakischen Regierungschef Nuri al-Maliki bescheinigt hat, sich unwiderruflich in eine Fata Morgana wandelt, nimmt Bush das nächste, größere Ziel ins Visier. Zentrale Passagen seiner jüngsten Aussagen lesen sich wie vorweggenommene Kriegserklärungen gegen die Nachbarstaaten Iraks, Syrien und vor allem Iran. Es wird an Begründungen gebastelt. Sie sind ähnlich wahrheitshaltig wie jene, die vor vier Jahren präsentiert wurden, um den völkerrechtswidrigen Krieg gegen Saddam Husseins Diktatur mit der Aureole des Notwendigen zu umgeben.
Iranische Agenten sollen an der Tötung amerikanischer Soldaten beteiligt gewesen sein. Iranische Diplomaten - die mutmaßlich mit der Einrichtung von künftigen Konsulaten beschäftigt waren - werden gekidnappt (was nebenbei erkennen lässt, mit welch heiligem Ernst die USA die Souveränität des Irak schützen). Iranische "Netzwerke" destabilisieren angeblich den Irak (als ob die Destabilisierung nicht eher Folge der Invasion durch die "Koalition der Willigen" ist).
Den Einsatz von Bodentruppen gegen den Iran schließen die Kriegsplaner in Washington offenbar aus. Flugzeugträger, Marschflugkörper und Patriot-Raketen, wie sie gerade in die Gewässer vor der iranischen Küste gebracht werden, sind für einen Landkrieg ja auch denkbar ungeeignet, helfen den USA auch nicht, das selbstgemachte Gefüge verschiedenster Gewalt ausübender Gruppen in dem Irak zu bekämpfen. Der Aufmarsch lässt eher vermuten, dass so genannte chirurgische Schläge gegen Atomanlagen, Flugplätze und Militäranlagen des Teheraner Regimes vorgesehen sind.
Nur die Gefahr, dass der Iran im Falle eines Falles die libanesische Hisbollah aktivieren könnte, hält angeblich die "Falken" noch vom Zustoßen ab. Zwar ist fraglich, ob die Hisbollah den Teheraner Ayatollahs auf einen Pfiff gehorcht. Da dies aber unterstellt wird, ist die Umkehrung des Arguments denkbar: Hisbollah-Aktionen können Israel dazu provozieren, den "Enthauptungsschlag" in Erwägung zu ziehen, bevor die USA ihn führen.
Unter den Despoten am südlichen Ufer des Persischen Golfs mögen diese Pläne Gefallen finden. In Berlin, Paris und anderen Hauptstädten hat man einmal andere Wege gewusst, eine iranische Nuklearrüstung abzuwenden. Es wird Zeit, sich darauf zu besinnen, gerade in Berlin. Die deutsche Regierung hat in ihrer gegenwärtigen Rolle Kraft, Gelegenheit und daher die Aufgabe, die "Falken" zu zähmen.